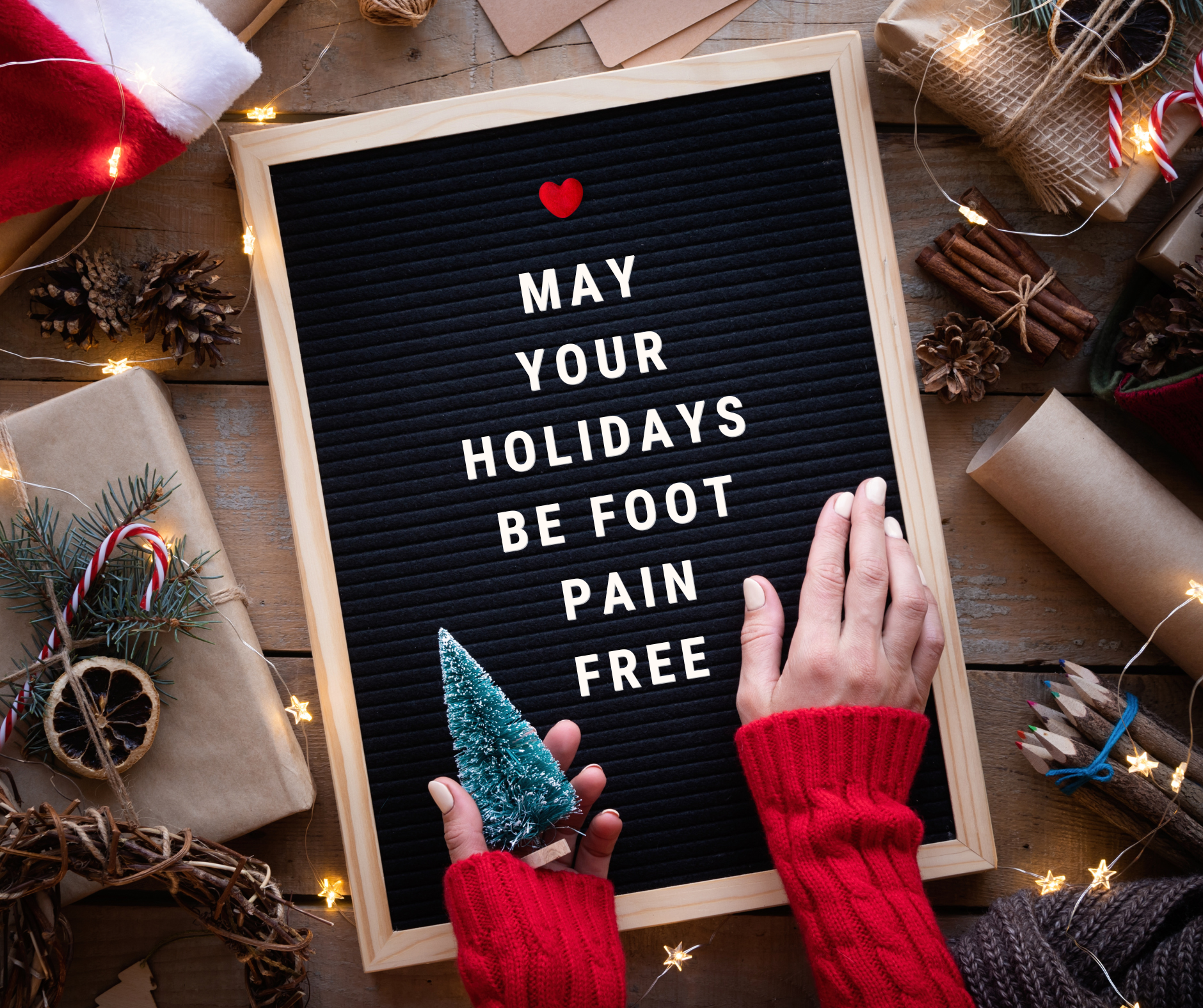 Are the Holidays Causing Your Foot Pain?
With the holiday season getting ready to kick-off, it is also the time when foot pain can come on strong. From Thanksgiving cooking to Black Friday Shopping and all those wonderful winter footwear options for parties and can contribute to new holiday foot pain or cause old foot pain to flare up. Our team covers these holiday events, sharing some things to watch out for as well as some things to do this holiday season to keep plantar fasciitis, bunions and other foot pain at bay.
Thanksgiving and Foot Pain
Whether you are spending time in the kitchen cooking or carrying chairs and tables, the amount of time and the extra weight you are adding to your feet can have a major impact. If you are doing these efforts barefoot or without any supportive footwear you could be adding undue stressors to your feet. On the other side of that coin, we all have that footwear that might look fabulous such as high heels or some thin-heeled boots. All of these can contribute to foot pain on Thanksgiving night.
Some great ways to deal with Thanksgiving foot pain is to wear  a shoe with a wide toebox that also has support for your arches and heels. If you must wear that fashionable footwear, then plan to kick those feet up and throw on a pair of foot alignment socks like a pair of My Happy Feet socks to end your day. You can also start with some foot exercises to strengthen those feet this holiday season.
Black Friday Shopping & Your Footwear is Causing Foot Pain
Whether you are doing your Black Friday shopping in warm climates or you are in the throws of winter, the footwear you choose for a long day of shopping can determine if you will have foot pain or not. Winter boots are one of the biggest culprits when it comes to foot pain. As we look at common boots for trudging through the snow, they often give little to no support, they can be flimsy, they have no heel support, and they really can cause a lot of issues and extra pressure across the bottom of the foot.
Those of you looking to sport your fashionable footwear while shopping might be cooking up a recipe for foot pain disaster. Wearing those high heels forces the weight of your body onto the ball of your foot. If you are wearing narrow shoes, this force then compacts your toes into a small space, which may encourage bunions to form and may exacerbate problems associated with existing bunions. Add in those heavy bags and you may have the perfect storm for aching feet.
While all of these footwear options and more have a place in your shopping wardrobe, one thing to consider is what they are doing to your feet. Don't throw them all away, you can still wear fashionable footwear as long as you prioritize your foot care regimen after a long day of fashion. Take time each day to work on foot exercises to strengthen your feet, especially those arches. You should also focus on resting, stretching, foot alignment socks and massages for those feet. When style is a necessity, good foot care is a must.

Holiday Parties, Standing and Posture
With the holiday season comes many parties and get-togethers with family, friends and work. That means that you will probably spend a large amount of time standing on your feet. Shifting your weight from side to side or standing on one foot or those fashionable shoes we have been talking about all contribute to added stress to your foot and even your back. Whether it is time spent waiting in line for food or standing talking with your boss, your footwear and your posture can lead to aching feet at the end of the day.
After that long day, it is important to take care of those feet. Consider a warm soak, ask a friend for a foot massage or do some gentle stretching. If you are looking for some easy foot exercises to relieve and prevent foot pain look no further because our team put together a list of the Top 10 Foot Exercises here.
Holiday Foot Care for Aching Feet
So this holiday season, don't leave yourself dealing with foot pain for months, learn what you can do to soothe or prevent those aching feet. One of our team's top recommendations is sliding those feet into a nice cozy pair of our foot alignment socks. In just 15 minutes you can start to feel some relief in those aching feet. There are a variety of other at-home tips our team recommends for providing some relief to that foot pain. Our team shares the Top 5 Ways to Soothe Foot Pain in our recent blog on this very topic.
Our team regularly shares content about foot exercises, common foot pain causes as well as the benefits of foot stretches, so visit our blog regularly or follow us on Facebook to stay up to date with new content as it comes out. And if you are looking for a great stretching regimen visit our store to shop for a pair of our foot alignment socks today.
---
Share this post
---
---