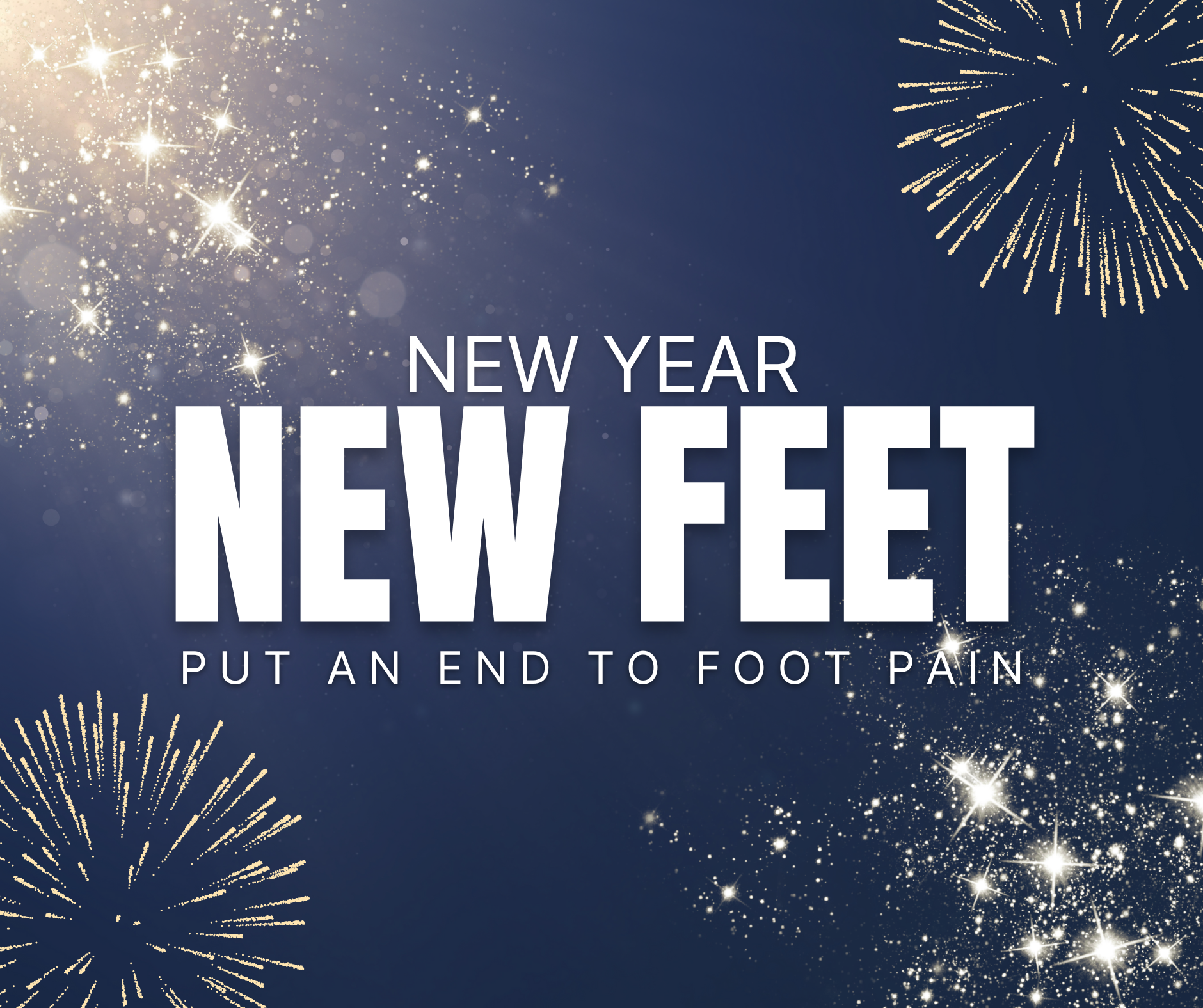 New Year End to Foot Pain
With the new year kicking off it's that time of year to focus on putting an end to foot pain and starting the new year with healthy feet. Now is the perfect time to start new routines to improve your foot health by starting a foot care regimen now. As the new year starts many people will be kicking off the year with exercise programs and healthy eating, so why not get a jump start by adding foot care to your list this year?
Our team of foot care specialists has put together a handful of ideas to start you off on the right foot to pain relief and stronger feet.
Understanding Your Foot Pain
Knowing what is causing your foot pain is one of the critical factors for relief as well as preventing it from getting worse. There are many causes of general foot problems and there are several common foot ailments that you could be diagnosed with. All of these can be brought on by your footwear, your daily routine, exercise and even genetics.
Do you have constant foot pain?
Do you think you might have a bunion, a hammertoe or plantar fasciitis?
Have you been diagnosed with a foot condition? 
Are you looking for ways to relieve that foot pain before surgery is the only option for correcting them? 
Interested in learning more about different types of f foot pain and their causes, if so read more on our site about Foot Care for Foot Pain Relief where we cover these and more. Keep reading in the blog for some key points to consider for creating your foot care routine in 2023.
Proper Foot Alignment is Key
At the top of your foot care regimen should be proper foot alignment. I know what you are thinking and yes you can change the alignment of the foot, toes, bones, joints and tendons. Not knowing this is part of the foot care problem that many people face. They blame how their feet look on nature or genetics or some extraterrestrial force. Our team has developed a patented solution to your foot alignment issues with our comfy foot alignment socks. These foot socks allow you to realign your foot and toes all while resting with your feet up. That is a foot care regimen I can do.
Immediate Relief & Long-Term Impact
Foot care specialists recognize that if toe separators are used appropriately, consistently and effectively, a typical success timeline to improve foot problems might look like this:
Immediate Impact – In the 1st Month, there is often increased foot/ankle stability through improved structural alignment. There is also typically relief from most minor aches and pains. Wearers can expect mild muscle/joint soreness as toes change position and dormant muscles become more active.
3-Month Impact – At this point, you should be noticing improved toe dexterity/control and increased foot/toe muscle strength and volume. There should be relief from moderate aches and pains. You should expect cycles of soreness and strength as the muscles continue to build.
6-Month – 1-Year Impact – This is the point where you should see significant toe/foot strength gains and lasting architectural/aesthetic changes to your feet. You should also be experiencing relief from significant aches and pains.
Keys to Foot Alignment Success
Foot alignment success is also heavily influenced by both the amount of time you wear them and the intensity of the activity they're worn during. It takes many steps in unhealthy footwear over a long period of time to change the shape of our feet and form bunions, hammertoes, plantar fasciitis and other foot ailments.
Feet that take more steps, and especially feet that take more athletic steps (e.g. runners, hikers, and other foot-centric athletes), change much faster. To improve the chances of success with foot alignment socks, you need to wear them often. As always, it's important to start low and increase slowly. In most cases, 15-30 minutes of passive wear on the first day is a great starting point. From there increase the time foot alignment socks are worn by 30 minutes per day, as feet tolerate.
Also, consider wearing foot alignment socks during some activities suc as yoga or when walking around the house barefoot. Foot alignment socks are simple tools to help you realign and strengthen your feet, but they won't work without consistent effort you. You can also work up to wearing them overnight to wake up with Happy Feet.
Foot Care Stretches & Exercises
One of the best ways to treat foot pain is by regularly exercising and stretching the feet and ankles. This can help ensure that the muscles are providing the best support. Doing weekly or even daily exercises may also increase the range of motion in the feet, which can help keep a person active for as long as possible. There is a variety of simple foot stretches that can reduce tension in the foot and calf. This typically offers both rapid pain relief and a steady improvement of foot pain symptoms over time.
Looking for exercises and stretches that you can do at home? Our team put together a great list of the Top 10 Best Foot Exercises to relieve foot pain. Doing all of these every day would be the perfect way to do that, but the best thing to do is start with a few of these added to your daily routine then add one or two of these each week. Before you know it you will be doing all of these every day.
These are just a few of the great foot care options to add to your daily activities or even your evening relaxation routine. Foot care might not be at the top of your resolution list, but foot pain and other body aches can surely make the other resolutions harder to achieve. Visit our foot care blog to learn more about different foot ailments, foot care and foot pain treatments then check back regularly for new ideas from our team.
---
Share this post
---
---