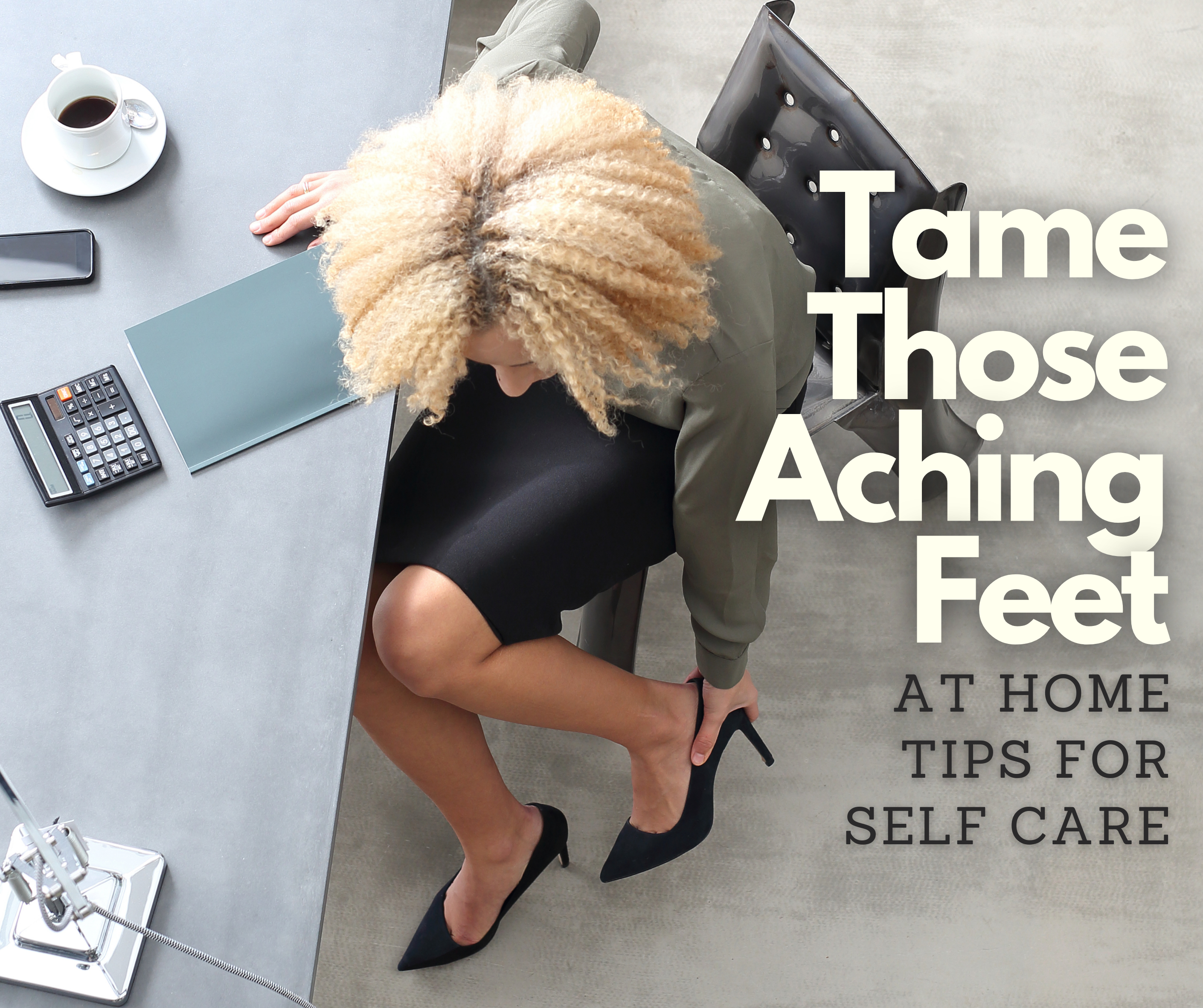 At-Home Self-Care Tips for Aching Feet
Long days at work or play can leave you with sore feet, but you can take steps to prevent foot pain and soothe your aching feet. Between walking, standing and exercising, your feet can put in some long hours. So what can you do to soothe sore, tired, aching feet? Our team shares some common causes of foot pain as well as some tips for relieving pain.
Your sore feet could stem from a few common causes and risk factors:
Foot structure: Flat feet, high arches, or arthritis (joints that don't move easily)
Injury: Strains, sprains, and other kinds of damage
Obesity: Strain on ligaments, muscles, and joints from being overweight
Overuse: Too much walking or standing, especially on hard surfaces
Pregnancy: Hormonal changes that make ligaments loose and stretchy
Poorly fitting shoes: Footwear that is too loose, too tight, or too narrow for your feet
5 Ways to Soothe Foot Pain
Besides kicking back and giving your feet a rest, here are some remedies that can help ease the ache of tired feet.
A Good Soak
One of the best remedies for relaxing sore muscles is a foot bath. Soak your feet in a basin of warm water or a foot spa for five to 10 minutes. Adding Epsom salts to the water can be extra relaxing. You can find Epsom salts in the first aid or foot care section of drug stores and big-box retailers.
To make an Epsom foot bath, the Farmers' Almanac recommends adding one-half cup Epsom salt to a container of warm water large enough to submerge your feet. If your feet are swollen, hot, or tired, use cool water instead of warm.
Afterward, dry your feet and elevate for a half hour or more. We also recommend applying a moisturizer to dry feet to prevent cracked feet and irritation.
Rest and the Common RICE Approach
Icing can help in the event of an acute injury and often it is recommended to use the RICE method (rest, ice, compression and elevation) for things such as ankle sprains or foot injuries. This simple self-care technique helps reduce swelling, ease pain and speed up healing.
Follow these steps from the American College of Foot and Ankle Surgeons:
Rest: Stay off the injured foot or ankle as walking may cause further injury.
Ice: Apply an ice pack to the injured area using a thin towel between the ice and the skin. Ice for 20 minutes, then wait at least 40 minutes before icing again.
Compression: An elastic wrap should be used to control swelling.
Elevation: The foot or ankle should be raised slightly above the level of your heart to reduce swelling.
Stretch Your Feet
Stressed muscles may contract or spasm. To relieve this tightness, stretching your feet may be just the trick. A good time to stretch is after a warm soak, when your muscles are relaxed or after exercising when muscles are warm. Many physical therapists & doctors will recommend wearing a splint or socks that stretch your calf, the arch of your foot or toes for proper foot alignment. This foot care solution can be simple and effective all while you sit watching TV or even while you sleep.
My Happy Feet has patented alignment socks that do just that while providing a comfortable daily foot care treatment for plantar fasciitis and most common foot ailments. Often these can be worn overnight and help to position your toes while lengthening and stretching, leading to relief from plantar fasciitis, bunions and other common foot pain. Buy a pair today by visiting our online store.
Exercises for Your Feet and Ankles
Regularly exercising and stretching the feet and ankles can help ensure that the muscles are providing the best support. These exercises may also increase the range of motion in the feet, helping keep a person active for as long as possible. A few of these simple foot stretches can reduce tension in the foot and calf. This offers both rapid pain relief and a steady improvement of symptoms over time.
Our team put together a list of the Top 10 Foot Exercises to relieve and prevent foot pain. 
Check Your Shoes
To prevent foot pain, your shoes need to be the right size and shape. The next time you're in a shoe store, take the time to have your feet measured. Your footwear needs may have changed since the last time you had your feet measured…if you ever have. You may need to switch the style or size of your shoes for a variety of reasons such as:
A bunion, hammertoe, or other condition has changed your foot shape
A neuroma has thickened around a nerve, causing you pain
The type of exercise you're doing has changed
Your foot size has changed as you've grown older
Sandals with too little support are causing foot fatigue
You're on your feet more than you used to be
Keep in mind that a loose shoe can also cause foot soreness. When your feet slide around in your shoes, blisters or black toenails can develop. You may also need new shoes if worn-out soles are changing how your feet hit the ground which can be painful for flat feet. While your shoes can be too loose they can also be too narrow. Make sure your shoes are wide enough and deep enough in the toe box.
When to Get Medical Help For Foot Pain
Having sore feet from time to time is a common experience for people of all ages. If your foot pain is getting worse or happening more often, or if it doesn't get better when you try simple remedies, it may be time to see a podiatrist. Certain medical conditions such as bunions, plantar fasciitis, hammertoes and more can cause foot pain or make it worse.
It is important to consult your primary care physician if your pain continues to worsen in order to evaluate and treat these conditions before you get to the point of surgery being your only foot pain remedy.
Foot soreness can be caused by your shoes, your foot's structure, a health condition, or your daily activities. You may be able to ease foot pain with warm foot soaks, massages, foot stretches, or exercises. If your shoes are part of the problem, you may want to work with a professional to make sure the style, size, and support are right for you.
Our team regularly shares content about foot exercises, common foot pain causes as well as the benefits of foot stretches, so visit our blog regularly or follow us on Facebook to stay up to date with new content as it comes out. And if you are looking for a great stretching regiment visit our store to shop for a pair of our foot alignment socks today.
---
Share this post
---
---