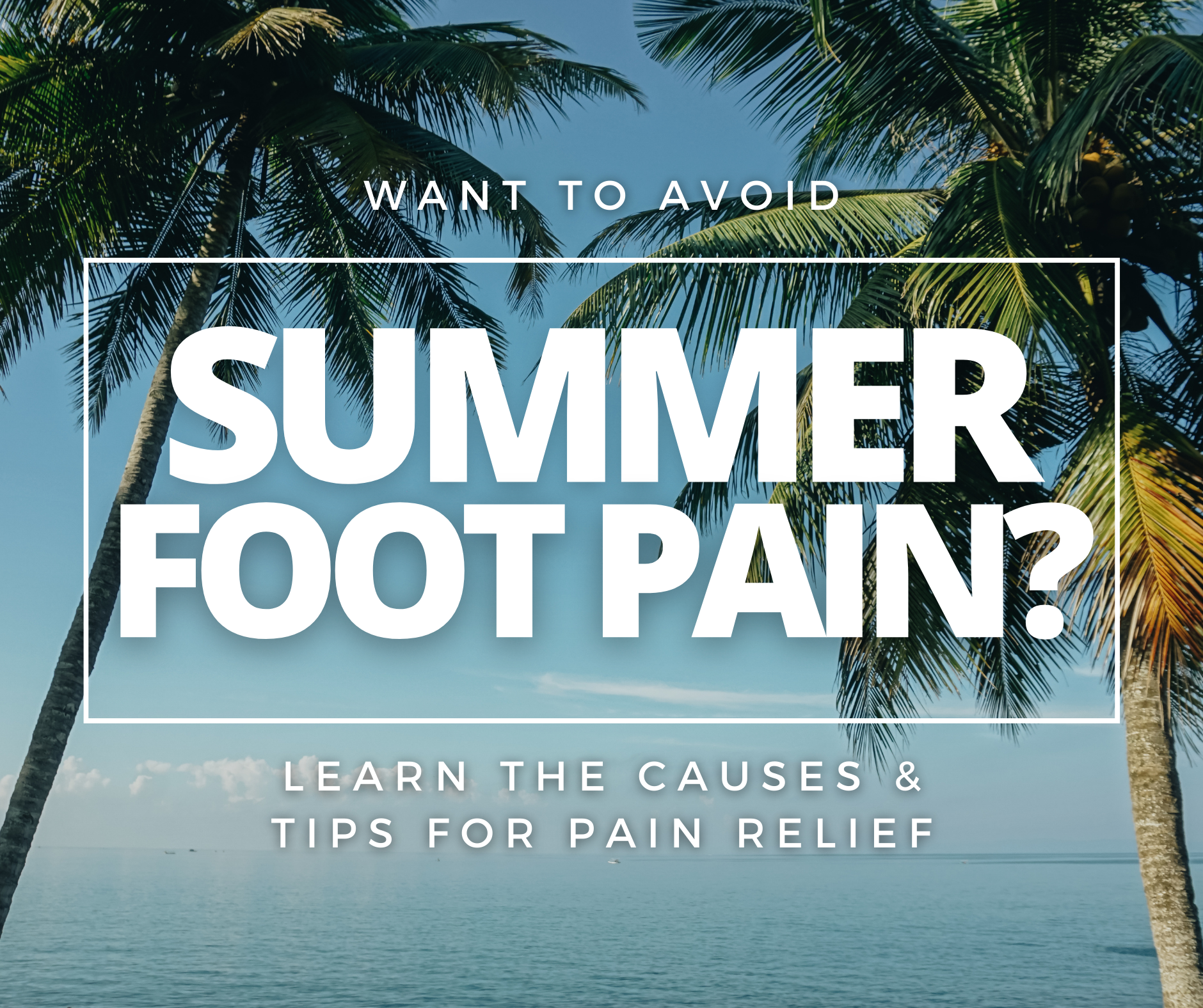 Why You Have More Foot Pain in the Summer
Summer is in full swing and as you get back to those summer activities like playing golf, hiking, beaches, etc., you may find an increase in your foot pain. This can be anything from minor foot pain to pain that is impairing your movement. Nearly eight out of every ten people have suffered from foot pain at one point or another.
So you are here reading this blog because you want answers to the question why do my feet hurt more in the summer than they do in the winter? Well for starters, it can be due to the nice weather, most people tend to be much more active in the summer. We're more inclined to go on long walks, go for bike rides, hike, and do other activities where we often use our feet. There are also some other factors that can serve as a catalyst for foot pain during the summer such as:
Going barefoot which gives your feet no support
Unsupportive shoes…this is self-explanatory
Sunburn feet which cause you to walk differently or wear different footwear or none at all
Swollen feet which means your shoes don't fit right and your feet are susceptible to additional foot ailments
In the summer, foot pain can suddenly become even more unbearable and at times aggravating due to a variety of factors such as changes in activities and footwear. Our team wants to provide you with the foot pain relief that you deserve and help end any discomfort that you are suffering from. 
Common Causes of Foot Pain:
The three most common foot conditions that can be a barrier to an active summer are neuromas, arthritis and heel pain.
Neuromas are nerves that become thickened, enlarged and painful because they have been compressed or irritated. A neuroma in the ball of your foot can cause significant pain as your body transfers its weight from one foot to the other. A common neuroma is called Morton's Neuroma.
Arthritis can cause pain in the joints of your foot making general movement difficult. Arthritis can be confused with the common foot ailment hallux valgus or bunions because they both can cause pain in the big toe. Here is a great read on the difference in hallux valgus and arthritis.
Heel pain typically results from an inflammation of the band of tissue that extends from your heel to the ball of your foot. A common foot ailment related to heel pain is plantar fasciitis.
Common (Nonsurgical) Treatments for Foot Pain:
Sometimes it can be very difficult to find relief when you have foot pain. If it starts to feel like the only thing you can do is to get off your feet and not move to subside the discomfort, you need to find professional help. There are a variety of at-home treatments for foot pain that you can try and below are a few of our top recommendations. Our team put together a list of our Top 10 Foot Exercises that you can try as well.
Rest your foot or feet and take a break from any new activities you are doing.
While a simple solution the benefits can be amazing.
Massage your foot and heel muscles along with stretching from a device such as our foot alignment socks.
If the pain gets too bad, physical therapy is a great solution.
Wear shoes with good arch support or try a pair of Orthotic inserts to cushion sensitive areas of the foot and stabilize movement
You can counteract the effects of wearing your flip flops, athletic shoes, hiking boots and other summer footwear by making sure to do some foot care at the end of every day. Some things like stretching and strength-building exercises to better support your arch. Stretching and keeping those tendons and ligaments in your feet healthy and aligned can be done while you sit resting from the day or reminiscing of those summer adventures with a pair of our foot alignment socks.
Take a look at some of our foot alignment socks today, you will help to better align your toes and increase their flexibility to help alleviate foot pain and promote healthier feet. Then get back out there tomorrow and enjoy the summer.
---
Share this post
---
---