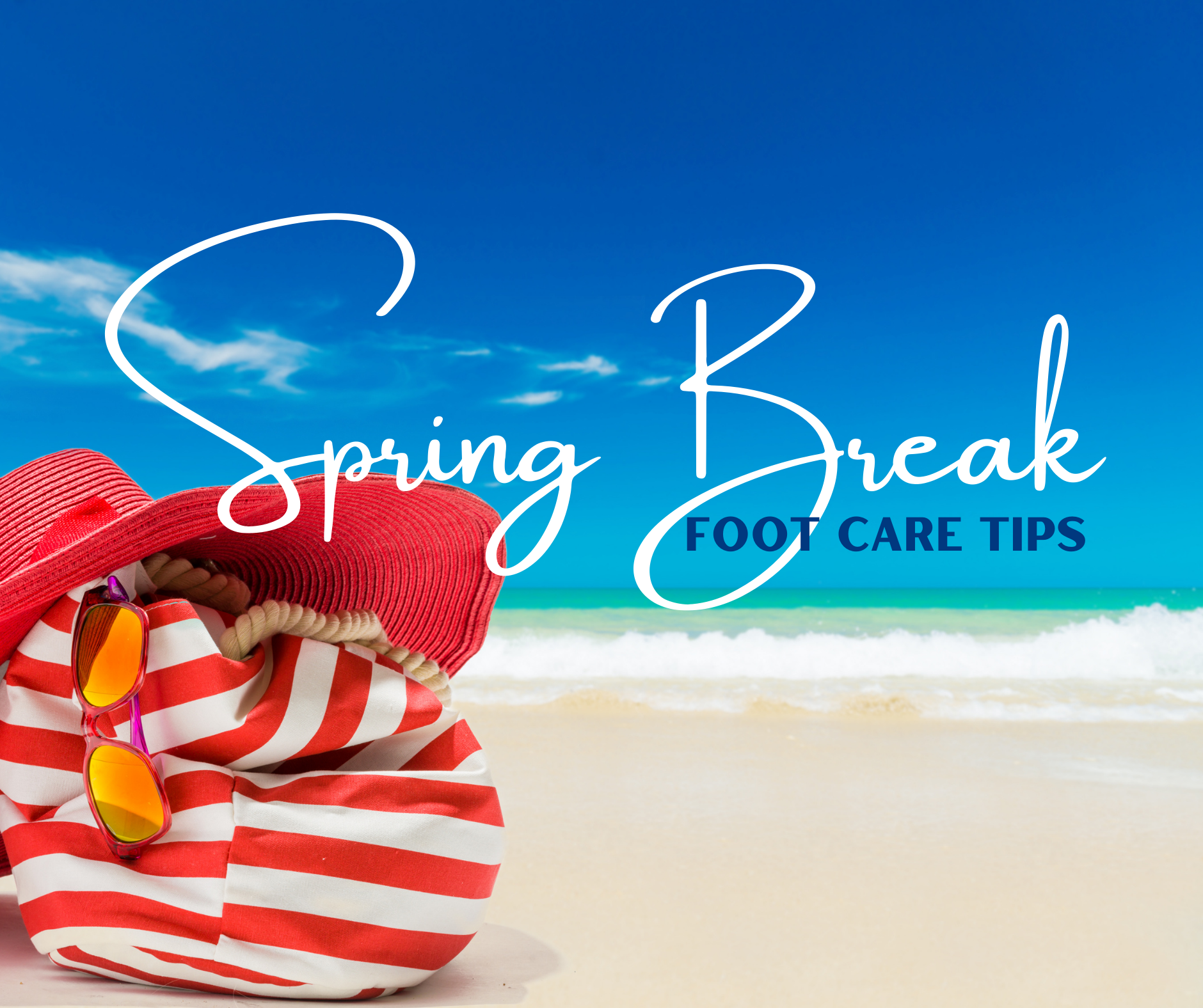 Top 5 Foot Care Tips for Spring Break Vacation
Spring is right around the corner and it is the perfect time for that spring break vacation. You might have a checklist for everything you will need, and you might be preparing for driving or flying. However, one thing many people do not consider is how to manage foot care during their trip to make sure you avoid any foot problems. This blog is going to look at the top foot care tips for your feet this spring break and how you can keep them safe and healthy during your vacation.
Always Stay Comfortable with the Right Shoes
When you go on vacation, you always want to make sure you are wearing comfortable clothing, as well as comfortable shoes. It can be easy to wear flip-flops or sandals without any support, but this can be difficult for your body and cause foot problems before you even arrive at your destination.
One of the best foot care tips to ensure proper foot care is to make sure you are wearing the right shoes with the right support. That could mean wide toe boxes or even orthotic shoes. In addition, if you are going somewhere warm and want to wear sandals, then you should wear orthotic sandals instead of regular flip flops as orthotics provide the support you need. These simple steps can help keep your spring break enjoyable and pain free.
Make Sure to Wear Socks
As you go throughout the airport or are walking around locations, you should make sure you are wearing socks with your shoes. This will keep friction down, which will help eliminate the possibility of blisters and calluses. One of the other top foot care tips for traveling is to wear compression socks when you are flying to keep circulation in your feet and legs healthy, avoiding any problems from sitting for too long.
If you are experiencing foot problems our team has put together a list of some tips for foot care as well as some common foot pain issues that people experience. Click the link to learn more about foot care pain relief.
Never Bring New Shoes on a Vacation
Spring break is a fun time and many people plan on going to certain places such as night clubs or beaches. Many times, people who go on vacation will want to purchase new shoes that are perfect for certain parts of the trip such as dress shoes for a fancy evening out. However, this can be very bad for your feet. Make sure you bring shoes you have worn many times before, as you will not need to break them in. Breaking in shoes can cause severe pain and cause blisters or other foot conditions. If you must bring those fancy high heels or comfy flip flops make sure you limit the time you are wearing them. It is also important to make sure you rest those feet and even stretch them. A pair of our foot alignment socks are the perfect end to an evening of fun and can help make sure you have a pain free day the next day.
Bring a Foot Care Kit for Your Feet
When it comes to foot care tips for your feet, you need to make sure you bring a foot care kit for your feet. This will help you if you develop blisters or other problems while walking long distances. A simple kit would include a set of nail clippers, alcohol wipes and antibiotic ointment, blister bandages and moleskin. You should also make sure you check your feet each day to see if you need to take care of any problems before the issues get too bad. Additionally, we have the perfect spring break foot care kit available today that includes a massage roller, a 4 in 1 brush and foot balm to sooth your tired feet.
Follow Basic, Everyday Foot Care Tips
Following basic, everyday foot care tips can also help you take care of your feet when on vacation. You will be able to enjoy more of your time instead of being in pain or constantly worrying about what will happen to your feet at the end of a long day.
A great way to relieve the stress of the day while on vacation is to pack along a pair of our Original Foot Alignment Socks to slip into in the evening as your day is coming to a close. Whether the stress is from standing in line at an amusement park, pounding the courts in a game of tennis, jogging on the beach or just generally walking around seeing the sights, your feet are your one contact point to the ground and take much of the stress. 
By gently stretching out your toes with the soft spacers, your feet are able to release much of their tension and be ready to preform again the next day. One recommendation though is to use your socks consistently before your vacation to allow your toes time to become adjusted to the stretch. Many people are uncomfortable in the socks at the beginning, but just like any stretching routine, it takes time to achieve the desired results.
---
Share this post
---
---