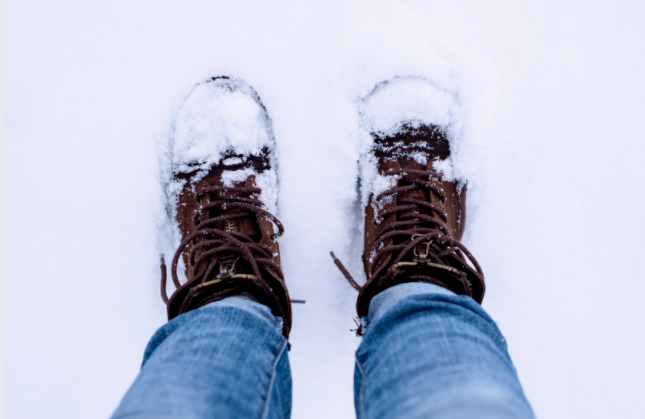 Is Winter Causing Your Foot Pain?
Ok, we know it isn't Winter's fault, but the winter footwear and winter activities might be causing your foot pain. Your winter footwear was most likely chosen based on warmth or fashion or practicality. None of those are taking into account the support your foot needs. Winter sports also have some specific footwear that accompanies them and those same winter sports require lots of time spent on your feet.
Are you wondering what you can do, how you can make different footwear choices, how to relieve foot pain or how to prevent foot pain from even starting? We thought so. Our team tackles some of the top winter footwear issues, common winter sports that cause foot pain and winter foot pain relief tips for you.
Foot Pain Relief From Winter Footwear
Winter boots are one of the biggest culprits when it comes to foot pain. As we look at common boots for trudging through the snow, they often give little to no support, they can be flimsy, they have no heel support, they really can cause a lot of issues, a lot of extra pressure across the bottom of the foot.
Now let's look at the fashion side of winter footwear. We have the furry flat boots, the wedge boot and of course those high fashion high heel boots. They all have a place in your winter wardrobe, but one thing to consider is what they are doing to your feet.
Often those flat boots provide little to no support for the bottom of your foot. Then we look at the high heel boots and those put all of your body weight on the ball of your foot with maybe a little on your heel. Does that sound like well-supported footwear? Of course, it doesn't sound like footwear that is providing the best support.
Don't throw them all away, you can still wear fashionable winter footwear as long as you prioritize your foot care regimen after a long day of fashion. Take time each day to work on foot exercises to strengthen your feet, especially those arches. You should also focus on resting, stretching, foot alignment socks and massages for those feet. When style is a necessity, good foot care is a must.
Winter Sports Causing Foot Pain?
While many of us hideaway by the fireplace avoiding the cold and that white stuff they call snow, there are still many more that enjoy the activities that you can only do in the snow. Winter activities like sledding, skiing, snowboarding, ice skating, ice climbing and more can all lead to foot pain at the end of a long day of fun. Most of these activities have special shoes that must be worn to participate, so picking footwear that prevents foot pain is going to be a challenge.
What can you do to minimize your foot pain from winter sports? What can you do to provide some foot pain relief? The answer is simple, foot care. By taking care of your feet daily with exercises to strengthen and lengthen those tendons in your foot, you can set yourself up to minimize your pain. A great way to lengthen and stretch out those toes and feet is with foot alignment socks.
Winter Foot Pain Relief Tips & Exercises
Now that we shared all the things you are doing wrong this winter that are causing your foot pain, so what can you do to provide relief or prevent the pain from setting in?
Correct fitting footwear

One of the most important parts of selecting footwear is the fit. To get the correct fit, when is the best time to get measured for footwear? Later in the day. According to foot specialists, you should get your foot measured later in the day because your foot can swell about 8% throughout the day.
That really is a lot, so if you go to the store right in the morning that could be a half size shoe smaller than what you would wear later in the day. Once your foot is measured the fit of your boot or shoe should be snug but not too snug. You should have a little room beyond your longest toe as well as 1/8 of an inch or so in the heel. This will ensure that your boots and shoes aren't moving your toes out of alignment and give your foot some room.

Resting, icing and anti-inflammatories

After a long day of winter activities, it is helpful to prop up your feet while you warm up by the fire. If you have significant foot pain you may need to take some anti-inflammatories to deal with any swelling and even consider icing or putting your feet out in the snow.

Simple foot exercises

There are a variety of foot exercises to perform based on your foot pain. Our team has put together some exercises for general foot care, bunions and plantar fasciitis on our website. The main focus of all of them is truly strengthening the muscles in the foot to promote proper foot alignment and balance within the structure of your foot.

Foot alignment & stretching

Many physical therapists & doctors will recommend wearing a splint or socks that stretch your calf, the arch of your foot or toes for proper foot alignment. This foot care solution for plantar fasciitis can be simple and effective all while you sit watching TV or even while you sleep.
Interested in learning more about foot care regimens or common foot ailments, visit our blog where we regularly provide updates on the latest foot topics our customers are facing. Have a topic you would like to learn more about or don't see featured in our blog, let us know and it could earn you savings on your next order of foot care products from My-Happy Feet.
---
Share this post
---
---