Purple Foot Alignment Socks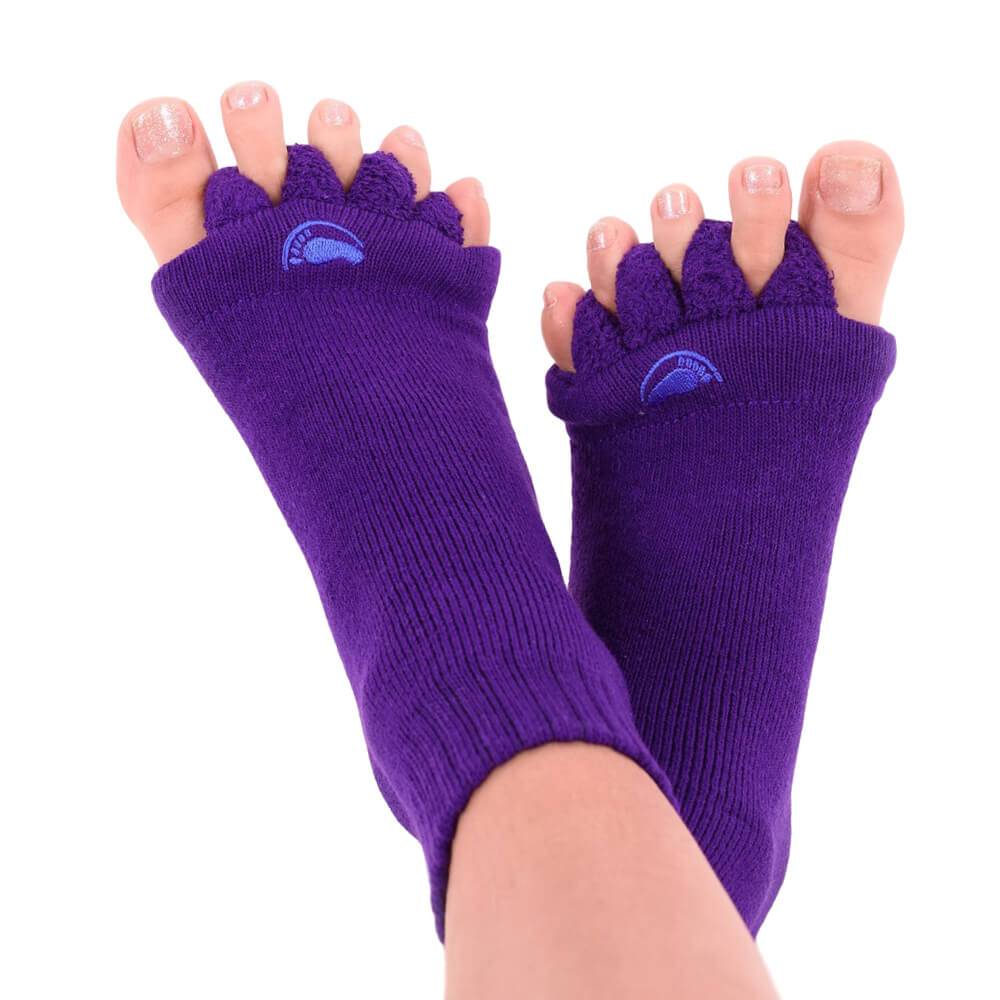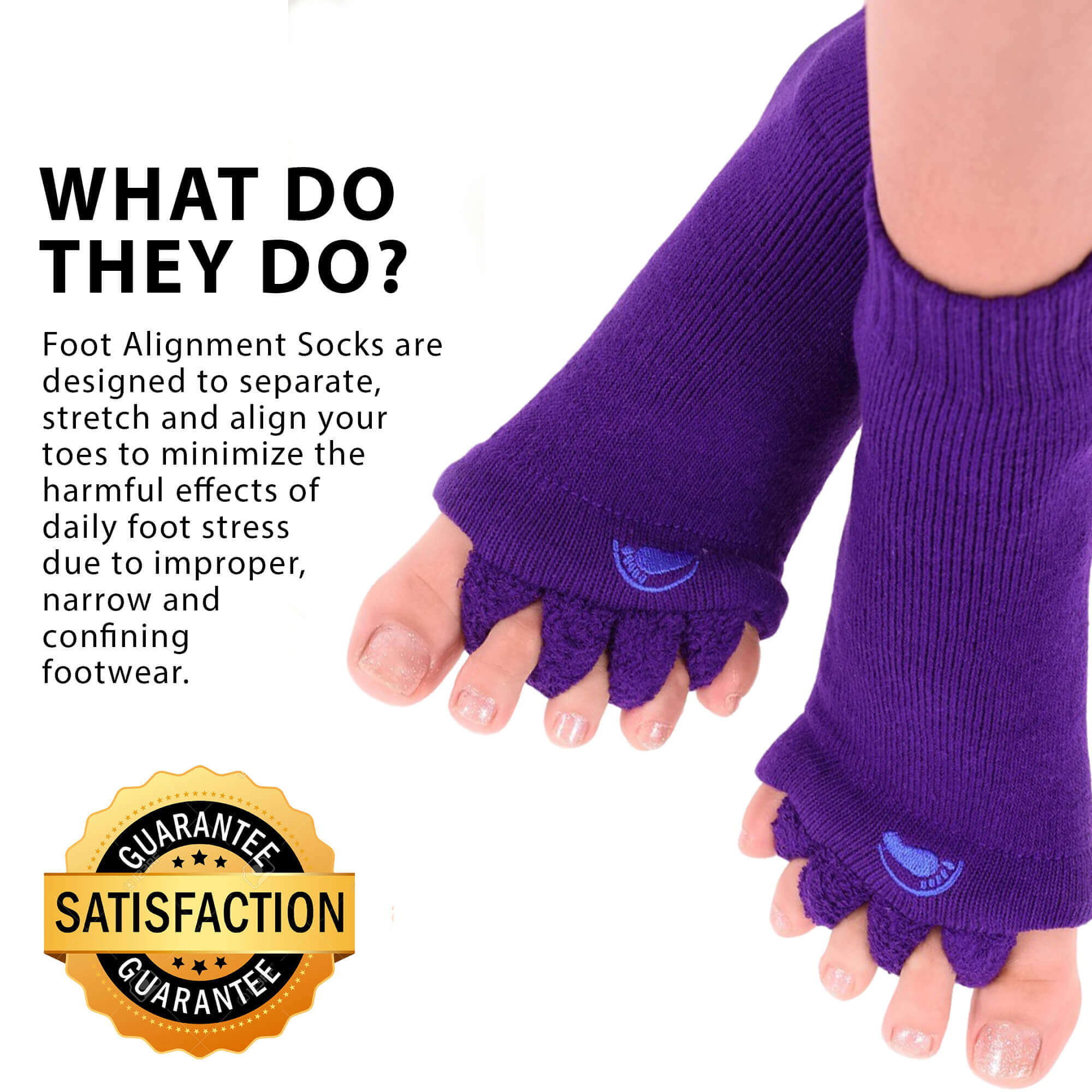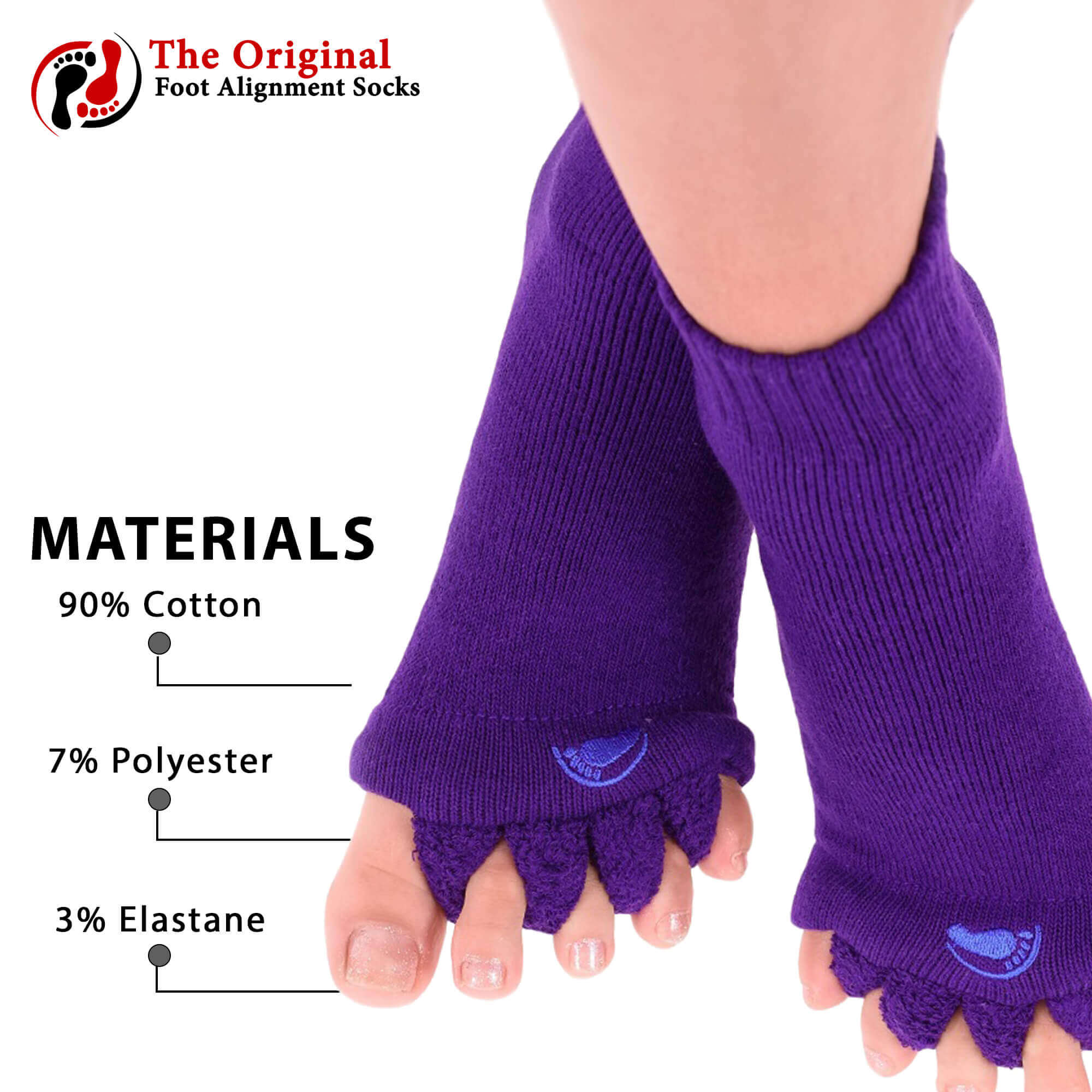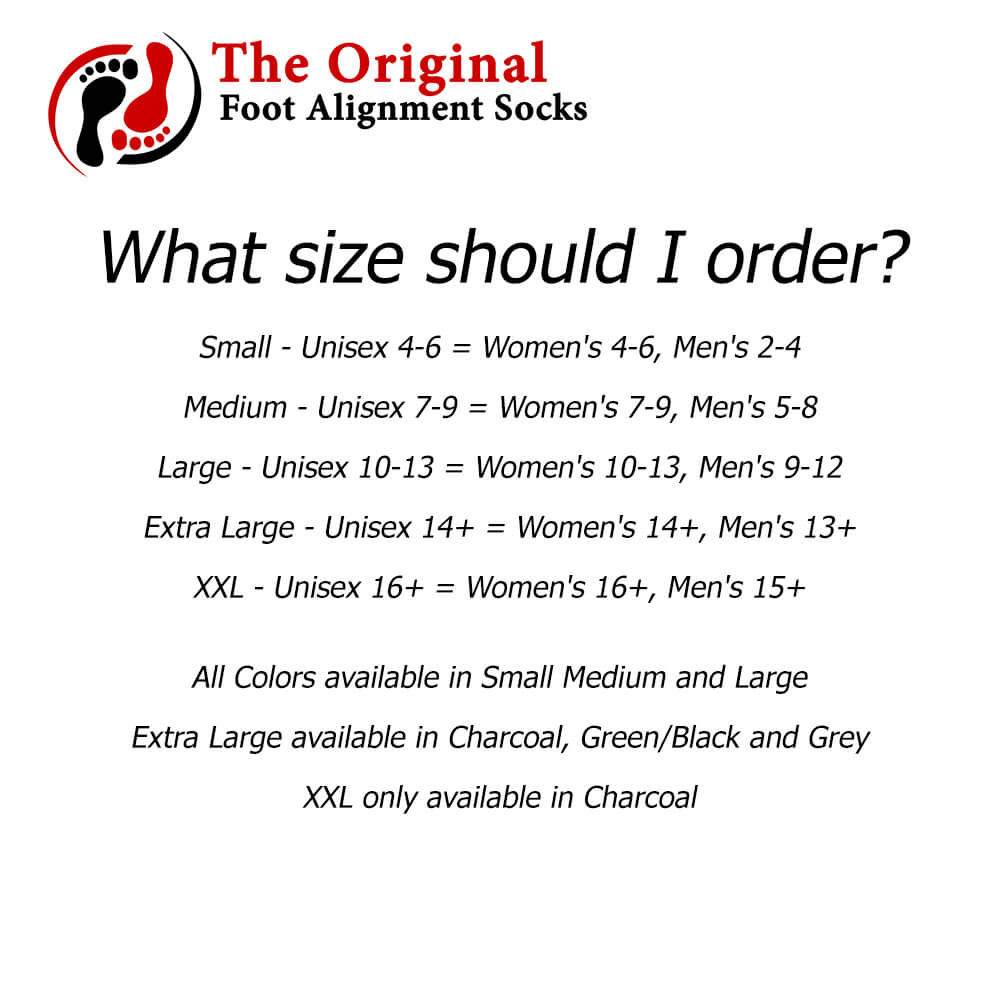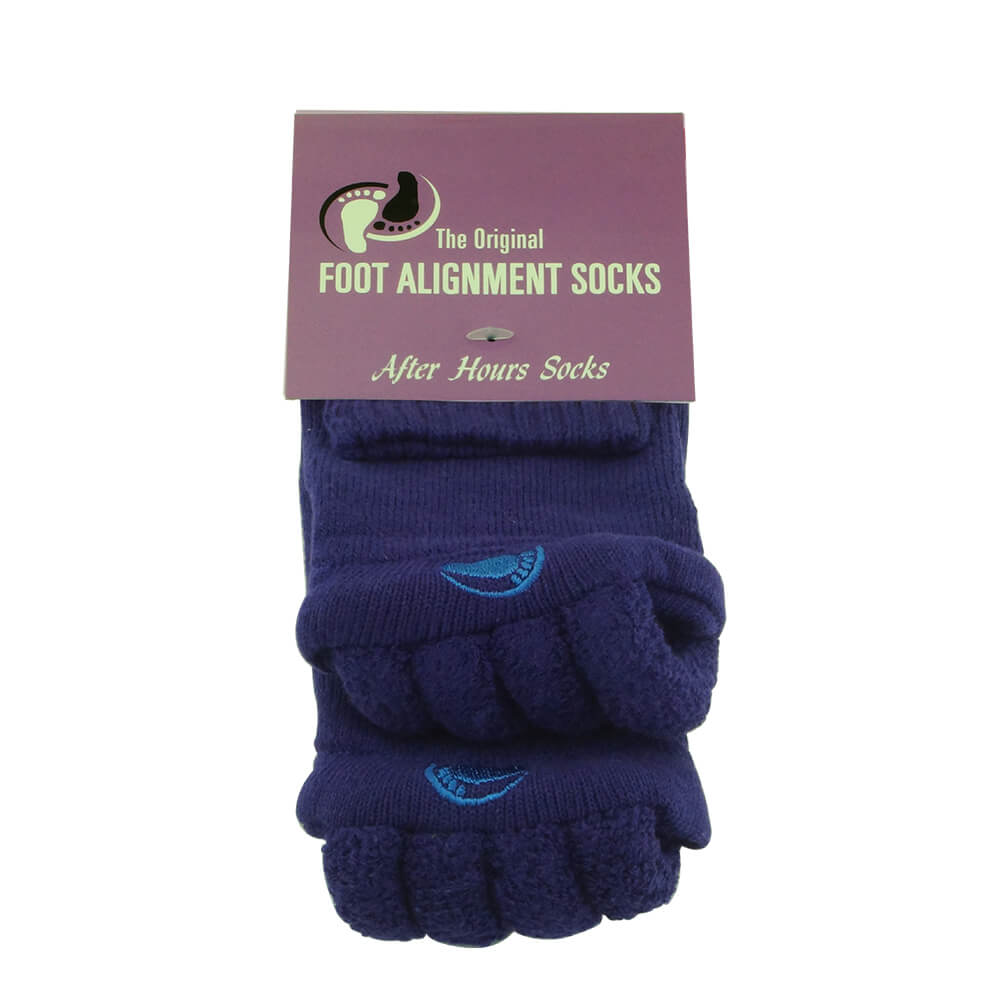 Purple Foot Alignment Socks
Suffering from chronic foot pain doesn't have to slow you down.
Achy feet, foot cramps, sore feet, plantar fasciitis or just general pain in your fe
et can prevent you from carrying out necessary daily tasks. The cause of foot pain can be attributed to a number of conditions such as hammer toes and bunions. Overlapping toes can also put unnecessary strain on your feet, but these crooked toes can benefit from the toe alignment of The Original Foot Alignment Socks.
These foot alignment socks are crew style and made from a soft cotton blend fabric that includes four toe separators. Each separator gives the toes a gentle push to align them with the rest of your foot. Available in a beautiful purple color, these socks are designed to be worn when relaxing to help relieve your unique cause of foot pain.
Purple foot alignment socks are available in Small (Unisex size 4-6), Medium (Unisex size 7-9) and Large (Unisex size 10+). Socks are stretchy so they will accommodate a range of overlapping sizes.
Materials: 90% Cotton, 7% Polyester, 3% Elastane
For more info, check out "What size should I order" and "Frequently Asked Questions" below.

WHAT SIZE SHOULD I ORDER?
Foot alignment socks are based on shoe sizes and are available in
Small (Unisex 4-6 = Women's 4-6, Men's 2-4)
Medium (Unisex 7-9 = Women's 7-9, Men's 5-8 )
Large (Unisex size 10-13 = Women's 10-13, Men's 9-12)
Extra Large (Unisex 14+ = Women's 14+, Men's 13+)
XXL (Unisex 16+ = Women's 16+, Men's 15+).
Socks are stretchy so they will accommodate a range of overlapping sizes and if you are in-between sizes, consider your foot width. Narrow feet would be fine to go down while wide feet can go up. If you like your socks a little looser, then you can go up as well.
Extra Large is only available in Light Grey, Charcoal and Green/Black. XXL is only available in Charcoal
FREQUENTLY ASKED QUESTIONS
Are Foot Alignment Socks for me?
No matter whether you have foot problems or not, these socks are for you. It is very important to maintain good foot health by preventing the harmful effects of fashion shoes, sport strain and other stresses on your feet. Foot Alignment Socks will do just that, by keeping your feet aligned with the rest of your body. Foot problems are more than an inconvenience. It effects how you walk, and since the foot is connected to the leg it has an effect on your knees, hips, and back…. all the way to your neck. Remember, it is easier to stay healthy than to get healthy.
What materials are the socks made from?
All socks are 90% cotton, 7% Polyester and 3% Elastane. except for White Small which are 89% Acrylic, 8% Polyester and 3% Elastane.
The spacers are the same materials as the socks themselves.
How long should I wear them?
In the beginning you should wear them daily for at least 15 minutes or as long as they are comfortable. A slight discomfort is OK, but they should not be painful. Just elevate your feet and relax. Gradually you will be able to extend the length of time. Depending on your feet, you may or may not be able to wear them overnight. When they start to bother you, remove them.
What should I do when my feet keep hurting after I put the socks on?
It depends in what condition your feet are in. When your feet are too painful, the corrective action of the socks could be uncomfortable for a while. Start very slowly and if after a week or two the pain persists you are most likely in need of more extensive foot care, please consult a Podiatrist.
Can I walk in these socks?
Foot Alignment Socks are not designed for walking. Of course you can walk in them across the room, but they are most effective in a relaxed position when feet have no stress or pressure on them – i.e.. sitting, lying down or sleeping.
How long should I wear these socks before I notice improvement in my feet?
It depends on what kind of improvement you are expecting. Your feet should feel better after the first week of wearing the socks. You will still have the bunion, but you will feel much better because you're in a lot less pain.
I am a diabetic, can I wear these socks?
We tend to recommend our Off-White for diabetics since they have no dye colorants but please consult your doctor before you do.
How should I wash these socks?
Foot Alignment Socks are machine washable and tumble dry at low temperature, so for best results air dry is recommended.
Our Customers

Love Our Products!