Pink Foot Alignment Socks
Having to live your life with unpleasant chronic foot pain is no laughing matter.
Achy feet and foot cramps, whether it is from overlapping toes or plantar fasciitis, can pose a sometimes debilitating problem. Getting rid of the pain in your feet from hammer toes, bunions or just generalized sore feet may seem impossible, but with the specially designed Original Foot Alignment Socks, relief from foot pain can be yours. These fitted foot alignment socks are designed as comfortable crew socks made from a soft, cotton blend material.
Our cute, pink socks come with four toe separators that repair the toe alignment of your crooked toes while also improving your circulation and providing a gentle massage. Whatever your specific cause of foot pain is, these open front socks can help.
Pink foot alignment socks are available in Small (Unisex size 4-6),  Medium (Unisex size 7-9) and Large (Unisex size 10+). Socks are stretchy so they will accommodate a range of overlapping sizes.
Materials: 90% Cotton, 7% Polyester, 3% Elastane
What size should I order?
Small Size - Unisex 4-6 = Women's 4-6, Men's 2-4
Medium Size - Unisex 7-9 = Women's 7-9, Men's 5-8
Large Size - Unisex 10+ = Women's 10+, Men's 9+
Foot alignment socks are stretchy so they will accommodate a range of overlapping sizes. For instance if you have a very wide or thick women's size 6, we would recommend a Medium, or if you have a thin women's 10, then the medium would also be your choice.
Customer Reviews
02/14/2018
LeeAnn G.
United States
Love 'em!
I love my new Foot Alignment Socks! I am a yoga lover and acutely aware of the importance of feet and care of feet.... I love how the socks spread my toes apart, well down along the tarsals! I put them on, put my feet up, and read, relax, watch TV, or crochet! Thank you!
11/14/2017
Annette M.
United States
They really work!
I was skeptical about these actually making my feet better. But I've had pain upon standing for years. The first 10 steps I take are grueling. I bought the sock and my feet feel great. I walk about 3 miles a day, and I have NO soreness upon waking. I wear the socks to bed, and take them off during the night, and I'm ready to go the next day. I am very pleasantly surprised. Thinking about a second pair.
03/26/2020
Anonymous
United States
Not what I expected
I bought these hoping for plantar fasciitis relief but they do not help with that. They are not tight enough to make a difference. They are just like a normal sock except with toe separators.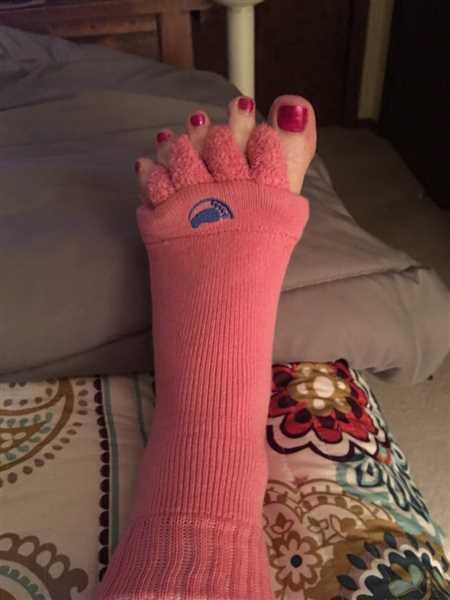 03/30/2020
Happy Feet - The Original Foot Alignment Socks
Sorry to hear you are not happy with your purchase. We do accept returns, please contact us for a refund.
03/23/2020
Noel T.
United States
Foot relief without the expense
Its still a little early to tell, but so far the feeling in my feet, along with alignment of the toes, has improved. If this rate continues, the end result will be significantly positive.
03/21/2020
Anonymous
United States
Happy Feet Alignment Socks
Very satisfied with these socks. They're comfortable and they work.
---
We Also Recommend